Amanda Lipp runs Lipp Studios, a small filmmaking company that specializes in short documentaries about mental health and social impact. Amanda has produced over 60 short films for clients around the U.S. Her creative approach is grounded in social psychology, entertainment-education, and systems change theory. She is either working 1:1 with clients, or working collaboratively with a crew. Amanda's empathy drives her creativity. During college, she spent three months in a psychiatric hospital after her own breakdown. It was here where she started storyboarding patients' stories and witnessed the power of vulnerability and storytelling. When she was discharged, she launched her film company.
Check out this 1 min. trailer of Drew's story experiencing psychosis. This film is part of a series on youth psychosis and the Coordinated Speciality Care treatment model at OnTrackNY, Columbia Psychiatry. Check out the longer film and the
full series
below.
NYC Youth Psychosis Program
A short series with OnTrackNY within Columbia University Medical Center. These films showcase young people's stories of mental health recovery.
Learn More
Teens & Digital Wellness
A short series with Technology and Adolescent Mental Wellness program (TAM) led by the University of Wisconsin-Madison, Department of Pediatrics. These films showcase youth and researchers tackling the intersection of teens, tech, and wellness.
Learn More
Tiny Homes for CA Camp Fire Survivors
A short documentary follows Alyssa Nolan-Cain, a local Butte County resident and single mother of three. This film aims to spark local & global awareness about Tiny Homes as an innovative, sustainable, and low-cost relief option for those in need.
Learn More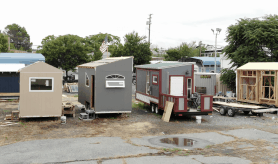 When I first heard about the tiny home building project to help California fire survivors, I signed up to volunteer[...]